I started following Kayla's blog about four months ago. Another friend whose blog I read was participating in her 21 Day Challenge, and it looked interesting, so I started kind of participating too. I would do the challenges, but not always on the day I was supposed to, and I never posted pictures in the linkups. Anyway, I liked the feel of Kayla's blog, so I kept reading even after the challenge was over. I especially love her Sunday Shares.
Anyway, tomorrow is another challenge/link party, an open-to-the-public version of the weekly Open to Interpretation column she does with a couple of friends. We've been asked to use this photo
as inspiration for an outfit of our own. The key is to use it as inspiration and not just copy the outfit, which is good because I own no tan sweaters, red pants, stripey shirts, or huge furry hats. And even if I did, I know that rolling up my pants like that would make my legs look even shorter than they already are.
I thought it would be fun to participate this time around, even if I'm pretty fashion backward. So, without further ado: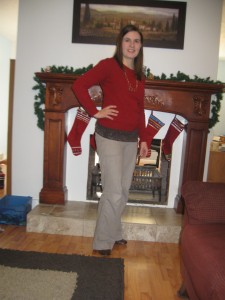 I decided immediately to swap the colors of the shirt and pants. The star of the show of this outfit, to me, is the striped shirt. It's the most surprising element (okay, other than the hat, which is not my favorite), and it makes the rest a whole lot less serious and stuffy. I'm glad I had a week to plan this, though, because it was only this morning, after a week's worth of wondering what to put under the sweater (I do not have a striped shirt or the money or, really, desire to buy one), that I decided upon this brown rhinestone-studded shirt. I like how it added some sparkle to the outfit.
I also debated whether to use the color of the shoes in the inspiration outfit as inspiration or whether I should go with my gray boots since the model is wearing boots. I tried both and eventually decided upon brown heels.
In the end, I felt so Christmasy that I had to pose in front of our stocking-bedecked mantel. My five-year-old son told me I look pretty today. Win.